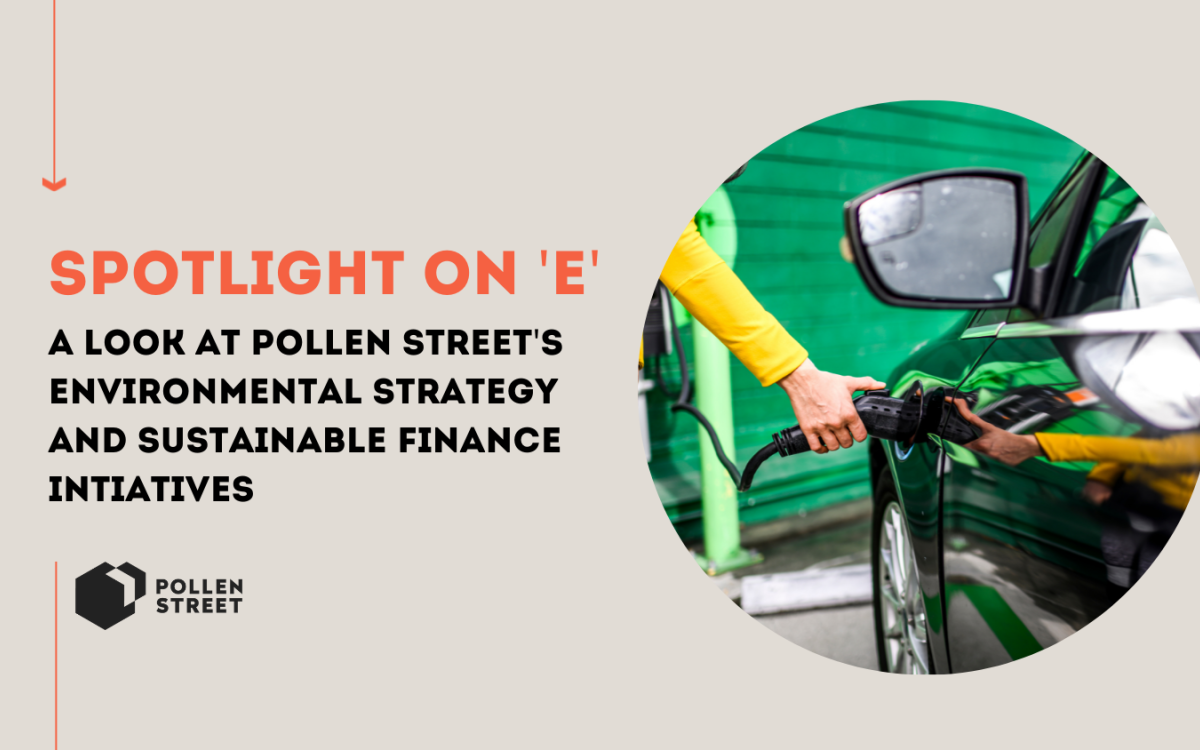 Spotlight on 'E': A look at Pollen Street Capital's environmental strategy and sustainable finance initiatives
Alison Collins, Head of ESG, puts a spotlight on the 'E' in ESG at Pollen Street
Our 'E' Carbon and Climate Strategy aligns with the UN Sustainable Development Goals 7, 11 and 13
This July, we published our latest annual ESG report. A core part of any ESG strategy is the 'E' pillar – or those factors impacting the environment. We wanted to take a closer look at the 'E' in ESG at Pollen Street, and how this pillar is being addressed across the firm and through working with our portfolio companies.
Climate change is one of the most pressing issues of our time. As we begin to see an increase in extreme weather conditions, including recent heatwaves and wildfires across the globe, the threat of climate change is clear, and it is imperative that businesses focus on the issue.
The environmental pillar in an ESG strategy considers how a company interacts directly with the environment, and its use of natural resources throughout the entirety of its supply chain and operations. We have a responsibility to do business in a manner that protects and improves the environment for future generations. To do this we have two areas of focus;
Understanding and mitigating our direct environmental impact and carbon footprint through the firm's and portfolio's operations
Helping to drive positive impact through our investments, directing capital to initiatives that scale the green transition
We believe that financial services has a significant role to play in funding green initiatives and driving positive sustainable change, and we recognise the significant contribution this will make in turning the tide on the climate crisis. As part of this, we believe it's our responsibility to support solutions that have a positive environmental impact, enabling businesses and people to make a real difference.
In this year's ESG report, we celebrated an important milestone towards our sustainability goals, announcing that Pollen Street Capital is now carbon neutral. Working towards carbon neutrality is a foundational part of our ESG strategy, and we have been consistently making progress and looking for new ways to reduce or offset our emissions.
To achieve the status of carbon neutral, an organisation must balance their carbon footprint through a reduction of in-house emissions and supporting external emission reduction projects. Changes to working practices and a reduction of business travel during the pandemic contributed to the 53% drop in CO2 emissions we've recorded as a firm between 2020 and 2021. We have further built on this through the sourcing of renewable electricity tariffs and offsetting the remainder of our carbon emissions with Ecologi, a business which funds a range of climate initiatives and tree planting schemes across the globe. Attention is now turning to net zero, and as a firm we are considering how we can set targets and clear actions to meet Paris aligned commitments.
More recently, we've seen an increasing focus on a science-based approach to help reach the climate goals set out in the Paris Agreement. This has seen organisations across many industries adopting science-based targets and creating a clearly defined pathway to hit these targets. Companies including Burberry, Schroders and Hg Capital are among those recently reported to have had their goals approved by the Science Based Targets Initiative (SBTi).
Crucially, we aren't just stopping with our own firm. We are committed to working towards carbon neutrality across our portfolio companies. Digital property company BidX1 has already become carbon neutral, and all further portfolio companies either have carbon neutral commitments or are developing net zero strategies.
Helping portfolio companies to achieve their environmental goals is an integral part of our work in both Private Equity and Credit. We do this in a number of different ways including cross-portfolio collaboration, effective monitoring and measurement through KPIs and ESG ratchets, and holding quarterly reviews which allow us to assess progress. Our Pollen Street Hub also helps portfolio companies on their way to adopting more sustainable practices and can provide recommendations on where, and how, improvements can be implemented, and sharing best practice.
While the latest report published by the Climate Change Committee (CCC) earlier this year found that the correct policies are now being put in place to achieve net zero and climate goals, they also see that the progress and implementation of these practices need to be made faster and more all-encompassing if climate disaster is to be averted.[1] We hear this loud and clear and will continue to evolve our policies and implement further change in line with new regulation and initiatives which are likely to arise in the near future.
Tangible impact:
Accelerating the transition to green mobility across the portfolio
One of the many green initiatives we wanted to shine a spotlight on this year is our support in accelerating the transition to green mobility through our credit strategy, with investments in electric car and micro-mobility facilities. Domestic transport is the largest emitting sector of greenhouse gas emissions in the UK, making up a total of 27% of all emissions in 2019, and so we see funding viable alternatives to traditional modes of transport as a key way to support the global sustainability transformation.
Splend is a leading vehicle subscription business for rideshare and delivery drivers which has an ambition to provide 10,000 EV ride-share and delivery vehicles over the next two years with the aim to further decarbonise mobility. We are supporting Splend to reach this goal through providing a £75m senior secured credit facility, which will allow it to further expand its services.
We are also supporting Onto, an all-inclusive electric vehicle (EV) subscription service, by providing a £100m credit facility which the organisation is using to significantly increase its electric vehicle fleet. It has already acquired in excess of 3,000 vehicles since funding was agreed in July last year. In 2021, Onto was able to save 6.5 times more CO2 than it saved in 2020, which shows the positive impact our additional funding is having on its ability to play a role in the green mobility transition.
Most recently, we have also completed an €80 million facility with a world-leading micro mobility provider. The organisation will help reduce carbon emissions through its provision of alternative green transport in cities across the world.
Supporting sustainable home improvements
Our portfolio company, Tandem Bank, is another example of our ongoing commitment to working with businesses that looking to create a greener, more sustainable future. Tandem has a roadmap of green product releases which have been specifically designed to help its customers make greener choices, with these products including EPC-linked mortgages and green lending services. Tandem Bank is a leading organisation looking to the future of green finance and one we are very proud to be supporting on this journey.
Our latest ESG report shares more detail on our overarching approach to impact, sustainability and governance. We also take this opportunity annually to highlight successes in making our business and our investments as sustainable as possible, but we know there is still more work to be done.
We are committed to evolving our targets for the 'E' pillar of our ESG framework for all new and existing portfolio companies and helping these companies to work towards their net zero commitments within five years of Pollen Street Capital investment. We are also strongly committed to continuing to scope out the best green initiatives in the market and finding ways to contribute to take care of the planet now, and in the future.
---
[1] https://www.theccc.org.uk/publication/2022-progress-report-to-parliament/
https://energysavingtrust.org.uk/the-climate-change-committees-2022-report-actions-speak-louder-than-words/